Touring Colombo: Isso Wade at Galle Face Green
Jan 05 2015

By a guest blogger
Galle Face Green, perhaps Sri Lanka's most famous promenade, on Saturday evenings is enthrallingly bazaar-like. The harsh sun keeps most visitors away during daytime, but when evening rolls around and the hustle bustle of the city tones down, that's when the promenade is at its most vibrant.
When we arrived around 5 p.m., the promenade was soothingly illuminated by the fading evening sunlight. People, families with loud little kids and couples clutching hard onto each other, were everywhere. Kite vendors seemed to be everywhere, too. They were mostly sarong clad men shouting over arrays of multicolored kites displayed on the green grass as their target demographic—pre-teens—threw tantrums until their parents bought them one. Balloon vendors made their business circling around parents with howling toddlers. Some parents made multiple trips to merchants who sold cheap plastic toys on worn-out blankets.
We walked past these miscellaneous sellers towards the ocean. This area has been developed Singapore-style with a concrete walkway and green plastic stalls reserved for food vendors.  Though there were many food vendors occupying the green stalls stretching along the walkway, interestingly, they all sold the same food items. The first items we noticed here were mass-produced Sri Lankan snacks sold in noisy packets. Then there were fried breadfruit chips sold in clear plastic bags. In little colored shopping bags were savory pickled snacks.
The fastest selling item here is the famous isso wade—spicy lentil flour patties topped with prawns, sold hot. Our 'isso wade' vendor was a skinny man with admirably dexterous hands. He had coral colored isso wade laid out in neat stacks in his stall. Upon our order, he quickly fried two, garnished them with onions, dressed them with hot sauce and served them to us graciously on a paper plate. He shot us a small smile before moving on to the next order. Our isso wades were aromatic and nicely crunchy. There's a lot of chewing involved especially because the prawns are served shells and heads intact. The spiced patty had a starchy quality and the hot sauce added extra zest to this already scrumptious delicacy. Soon as we were done eating, we were thirsty. We ordered a bottle of water, another two isso wades, and enjoyed our food on a bench watching the bellowing Indian Ocean. Definitely not an experience to miss in Sri Lanka.
Follow our Blog
Recent Posts

An unusual tour - National Museum of Natural History

Enjoying Sri Lanka's popular street food isso wade at Galle Face Green.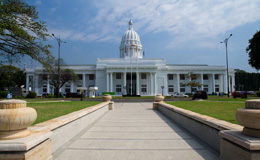 Colombo 07 or Cinnamon Gardens as it is also known is one of Colombo's plushest residential areas. The area gets its name from the large Cinnamon plantations that were in existence during the 18th century.
More..